Meet the Team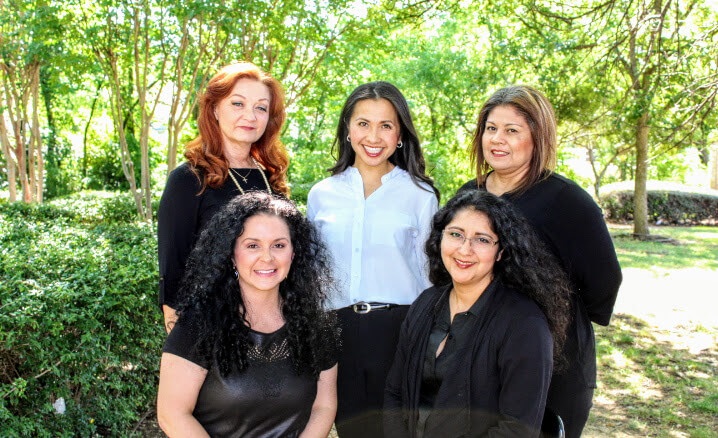 Rosie
Front Office Coordinator
Rosie has worked in the dental field since 2008, and recently joined our team in 2016. She loves helping patients achieve their smile goals and maintain oral health and well-being. A native of Dallas, Rosie grew up in Mexico, she loves spending time with her 4 children - Crystal, Jenny, Juan and Bianca. When she is not spending time with her wonderful kids, family, and friends she enjoys crafting, art classes, and making soap! If Rosie wasn't a hygienist, she would love to be an artist
Jackie
Surgical Dental Assistant
Jackie comes to us from Selma, CA home of the California raisins. She has 15 years in dentistry, and we've been reaping the benefit of her years of oral surgery and dentistry experience since 2013. We're lucky to have this passionate care giver who love helping people get healthy on our team. In addition to receiving her certification as a surgical dental assistant from Gallen College of Medical and Dental Assistants, Jackie holds CPR and x-ray certification. At home, Jackie is happily married with 3 daughters and 3 grandchildren. She loves being a grandma, and spends as much time with her family as possible. Jackie also enjoys travelling and experiencing new places, whenever she can.
Danielle
Surgical Dental Assistant
An Arlington, TX native, Danielle has worked in the dental field for more than a decade. Danielle decided to join the DFW Periodontics team as a Registered Dental Assistance because she loves establishing lasting relationships with her patients and making them feel comfortable and well cared for. In her free time, Danielle loves spending time with Perry and Nevaeh. She also loves being outdoors and doing active activities like hiking, running and gardening. She is a wonderful asset to our team and we know our patients will agree.
Pam
Registered Dental Hygienist
Pam has worked in the dental field for more than 25 years. This veteran of the US Air Force is an asset to our practice, and has been helping our patients meet and exceed their oral health goals since 2005. In addition to being a registered dental hygienist, Pam also holds CPR and laser dentistry certifications. She participates in continuing education each year to keep up with trends in dental health care. Originally from Hurst, TX, she and her husband are proud of their adult son and daughter-in-law. Pam loves spending time spoiling her 9 grandchildren. At home, Pam has 2 dogs and a cat who she refers to as her "furry 4 legged children." She loves taking her dogs for walks, dancing, and is an active member in her church.