COVID -19 OFFICE PRECAUTIONS
If you are showing any symptoms including elevated temperature, body aches, chills, coughing, shortness of breath please contact the office so that we can reschedule your appointment for a later date.
If you have had any Covid-19 exposure, follow CDC guidelines of treatment and recovery isolation before scheduling an appointment.
Apply the hand sanitizer available upon entry of premises.
For the safety of you and our staff, we ask that you wear a face mask or covering during your visit. The doctor will ask you when it is appropriate to remove it.
We have removed the use of our waiting room in order to practice safe distancing and removed all refreshments and magazines.
Our team will be wearing proper Personal Protective Equipment (PPE) including face shields, N95/KN95 masks, full gowns, gloves, and hair covers
A plexiglass shield has been installed at the front desk
We will be doing hourly disinfection sweep throughout the office and between patients
We will be fogging the office throughout the day to provide additional disinfection and purification.
We have added HEPA air filtration in each operatory and in the hallway
In all procedures where aerosol is present, you will see one or more of the following tools/equipment: high-velocity evacuation, extra-oral suction device, and/or Isodry to control aerosols during procedures
When arriving for your appointment, please wait in your vehicle and check-in by phone. We will call you and escort you to your treatment room when it is ready for your entry.
Patient's temperature will be taken upon arrival
Clinical staff will be wearing N-95 surgical masks as well as plastic face shields to protect from airborne particles and liquid contamination.
Staff will only be allowed to work if they have a clean bill of health for communicative diseases.
Spacing our appointment times to reduce patient overlap.
Las Colinas Periodontist & Dentist
Board Certified, American Board of Periodontology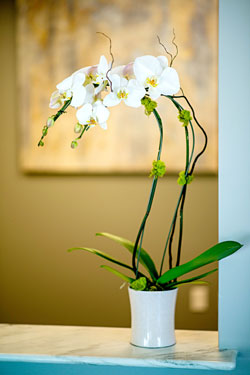 We are dedicated to improving your oral health by treating gum disease, a condition that affects the soft and hard tissues surrounding your teeth. Our years of experience, state of the art equipment, and our compassionate and considerate service will all make a difference in your treatment and outcome. Thank you for choosing our practice - we appreciate your trust in us.
Dr. Hsu and her staff
Dr. Hsu and her staff want to make your entire experience in our office a positive one. We understand that you may be fearful or anxious because of past experiences in a dental office; options such as sedation dentistry will make treatments much easier for you. Patient comfort is of utmost importance to us. We offer warm blankets, a state of art massage feature in our dental chairs, refreshing scented towels, and care packages after your treatment is completed to make your experience with us, comfortable and relaxing.
Information for Informed Decisions
One of the first things you'll notice about us with your first consultation is that we provide you with clear, complete explanations about every aspect of your dental health. We are convinced that informed decisions are better decisions. And better decisions mean better long-term health.
Expertise for Excellent Dental Outcomes
Another important aspect of our practice is our hard-earned combination of technical training and teamwork. We work hard to keep up with the latest advances in dentistry, and we work hard to function as a well-balanced team.