December 22, 2015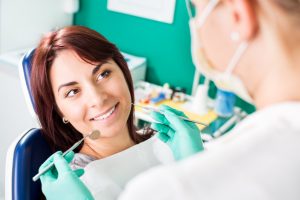 As an experienced Las Colinas dentist, Dr. Cindy H. Hsu knows good oral health is about more than keeping your teeth free from decay, though that's a big part of it. No, sometimes other factors must be taken into consideration to ensure your mouth is as healthy as it can be — like a mouth sore that doesn't heal. That's a sign of oral cancer, a very serious condition that roughly 45,750 Americans will be diagnosed with this year. Early diagnosis can help a great deal in successful treatment. Keep reading to learn more about the importance of oral cancer screenings in Las Colinas.
Don't Forget Your Oral Cancer Screenings in 2016
This New Year, take a big step to maintaining your good health and resolve to get a Las Colinas oral cancer screening at Dr. Hsu's office. The disease is estimated to cause over 8,650 deaths in 2016 — a number that is thought to be so high due to the fact that patients often don't realize they have the disease until it's in its very late stages. This year, let's break that trend by getting proactive against oral cancer with annual screenings.
What to Expect in Your Oral Cancer Screening
An oral cancer screening at DFW Periodontics and Implant Dentistry is quick, and Dr. Hsu can complete it at the same time as your regular dental checkup and cleaning. During the exam, she'll examine your oral cavity and ask you questions about your health and lifestyle to identify any warning signs or possible risk factors of the disease.
What Can Signal Oral Cancer
Dr. Hsu will be on the lookout for any of these warning signs of oral cancer.
Bumps, rough spots, swellings, erosions or other mouth irregularities

Patches in the mouth that appear white, red or speckled

Sensitivity in the mouth

Numbness

Bleeding sores on the face, neck or mouth that won't stop

Sore throat

Difficulty chewing, speaking or moving the jaw

Noticeable change in the alignment of teeth

Dramatic weight loss
Risk Factors of Oral Cancer
The following factors are closely linked with the development of oral cancer in adults.
Tobacco and alcohol use, especially together

HPV infection

Risk increases past age 44

Men are twice as likely to develop oral cancer

Repeated ultraviolet light exposure

Poor nutrition
If you have one or more of these risk factors for oral cancer, it's especially important for you to schedule your screening with Dr. Hsu in 2016. Remember that it can be performed at the same time as your general exam and cleaning, so don't forget to let us know you'd like an oral cancer screening when you request your regular appointment.
Oral cancer has already taken significant toll on our society — together, let's do what we can to stop it in 2016. Request your appointment online today.
Comments Off

on Oral Cancer Screening in Las Colinas Can Save Your Life
No Comments
No comments yet.
RSS feed for comments on this post.
Sorry, the comment form is closed at this time.