December 10, 2018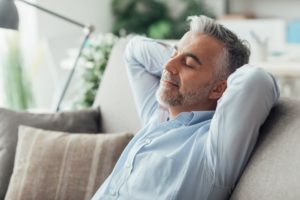 Do shivers of fear run down your spine when you think about visiting the dentist? Perhaps you had a past bad experience, or you may be afraid because you've heard stories about other people who have undergone painful procedures. In reality, though, there is no reason to be afraid of visiting the dentist. Let's discuss the devastating consequences of dental anxiety and how sedation dentistry may be able to help you overcome your fears.
The Impact of Dental Anxiety
Dental anxiety is a common problem — in fact, an estimated 80 percent of Americans have some level of dental anxiety. Up to 14 percent of adults hesitate to go to the dentist due to very high levels of anxiety. Sometimes, their discomfort is based on previous experiences, but in other cases, there is no concrete explanation behind the fear. Dental phobia, which is an even more paralyzing form of fear, can hold people back from going to the dentist until they are in extreme pain. They may recognize that the fear is irrational, but they cannot use reason or logic to help them conquer it.
People who neglect dental care due to anxiety are at a high risk of suffering from serious oral health problems, such as extensive tooth decay and gum disease. Furthermore, not going to the dentist may also have an impact on a person's overall health. For example, if gum disease remains untreated, the bacteria that causes it can sneak into the bloodstream and contribute to systemic conditions such as cardiovascular disease, dementia, and respiratory illness.
Dental anxiety can touch on other aspects of patients' lives as well. For example, embarrassment over broken or decayed teeth can lead to social problems. Badly damaged teeth and bad breath may even hurt an individual's career prospects.
Conquering Dental Anxiety and Dental Phobia
Some people with dental anxiety find that exposure therapy — visiting the dentist despite their fear — helps them to adopt a more positive view of visiting their oral healthcare provider. This method may be particularly useful for people with mild anxiety who do thorough research to find a dentist who has a reputation for being gentle and compassionate.
Of course, sometimes more is needed than an excellent, caring dentist. That is why many oral health professionals offer sedation dentistry. Depending on the procedure you need and your level of anxiety, you may benefit from:
Nitrous oxide. This mild gas creates an immediate calming effect as you breathe it in.
Oral conscious sedation. With oral conscious sedation, you take a pill shortly before your procedure. Although you remain conscious, you are very relaxed while the dentist is working.
IV sedation. Only a few dentists are qualified to offer IV sedation, which delivers powerful calming drugs intravenously. It is often used for lengthy procedures or for patients who suffer from extreme phobia.
Do you struggle with dental anxiety? Let your dentist know; they will not criticize you or judge you for your feelings. Rather, they'll kindly take appropriate measures to help you get through your appointment with as little discomfort as possible.
About the Author
Dr. Cindy Hsu is a deeply compassionate periodontist (gum health specialist) who understands that many patients suffer from dental anxiety. She offers several types of sedation, including nitrous oxide, oral conscious sedation, and IV sedation. If you would like to learn more about Dr. Hsu and her services, contact one of our offices.
Comments Off

on Sedation Dentistry Can Help You Conquer Dental Anxiety
No Comments
No comments yet.
RSS feed for comments on this post.
Sorry, the comment form is closed at this time.