November 16, 2018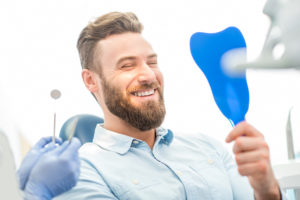 Did you know tooth decay is not the only danger to your oral health? Gum disease is equally as devastating. Although it is preventable, the Centers for Disease Control and Prevention estimates at least 50% of adults in the U.S. have a form of it. Your periodontist in Southlake can quickly stop the infection while in the early stage before it causes any long-term damage.
What is Gum Disease?
Periodontal (gum) disease is an infection that develops in the gum tissue from bacteria found in tartar accumulations. Proper oral hygiene habits at home and regular care from your dentist can help you avoid it. Even with the best prevention, it can still occur. In its earliest form, known as gingivitis, your gums may bleed or appear red and swollen. At this point, a good cleaning and changes to your oral hygiene routine can stop it in its tracks.
Unfortunately, many people fail to recognize the early signs of gum disease, allowing it to progress in severity. As the infection continues, it causes pockets to form between the gum tissue and your teeth, trapping additional bacteria. This causes the supporting structures of your teeth to be destroyed. Now, periodontitis has developed, which requires an aggressive treatment plan to stop the damage.
If it is not treated quickly, it can reach advanced stages. This can lead to tooth loss and serious health complications. The bacteria can enter your bloodstream. As it circulates throughout your body, it causes inflammation. This increases your risk of cardiovascular disease, Alzheimer's disease, respiratory infections, and diabetic complications.
Treating Gum Disease
Although it is best to treat gum disease in Southlake as soon as possible, it is never too late to save your smile. Your periodontist performs a comprehensive evaluation to determine the severity of the infection to create a customized treatment plan.
Scaling and Root Planing: Better known as a deep cleaning, special dental tools remove tartar from the roots and smooth their surfaces to prevent future buildup.
Antibiotic Therapy: Antibiotics can be used to help kill the infection.
Laser Gum Treatment: A laser sterilizes and removes damaged tissue to allow new growth.
Gum Grafting: If serious damage to the tissue has left the roots of the teeth exposed, gum grafting helps to cover their surfaces.
Besides periodontal therapy, you may need restorative procedures to reverse any damage that has occurred from the infection, such as replacing missing teeth.
Save Your Smile Today!
It is best to treat gum disease at the first sign of a problem. Do not wait until it is too late. Contact your dentist right away for periodontal therapy.
About Dr. Cindy Hsu
Dr. Cindy Hsu provides more than just general dentistry. She has completed advanced training to offer specialty treatments, such as periodontal therapy and dental implants. She maintains the highest standards of care to create healthy, functional smiles. If you have untreated gum disease, contact our office today for an appointment.
Comments Off

on Periodontist in Southlake Can Save Your Smile with Periodontal Therapy
No Comments
No comments yet.
RSS feed for comments on this post.
Sorry, the comment form is closed at this time.