September 15, 2018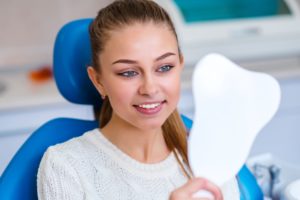 When you look in the mirror, have you noticed your gum tissue does not sit as high on your teeth as it once had? You may have receding gums. While it may not seem like a large concern at first, if it is not corrected, it can lead to serious dental complications, like tooth loss. To stop the recession before it progresses, it is best to find the underlying cause of the problem for the appropriate intervention.

Dangers of Gum Recession
The health of your gums is equally important as your teeth. They provide your teeth with support while sealing out harmful bacteria. If they become compromised, it increases your risk of cavities, sensitivity, and tooth loss. It will also cause cosmetic imperfections that can leave you feeling insecure about your smile.
Causes of Gum Recession
Losing your gum tissue can result from several issues, such as aggressive brushing or using a hard-bristled toothbrush. By changing your brushing habits, you can prevent further damage.
The leading cause of gum recession involves a preventable infection known as periodontal disease. The Centers for Disease Control and Prevention estimates at least 50% of adults have a form of it. It develops when bacteria found in plaque and tartar accumulations cause an infection. This destroys the tissue and the supporting structures of your teeth if it is not treated quickly.
There are other factors that can lead to the problem as well, such as:
Grinding or clenching of the teeth.
A poorly aligned bite.
Misaligned teeth.
Damage from a previous dental treatment.
Tongue or lip piercings.
Age
Tobacco use
Genetics
Diabetes
Treating Gum Recession
The sooner you seek treatment for gum recession, the better. Since it is a gradual process, you may not see the changes at first; however, you may notice increased tooth sensitivity, larger spacings between your teeth, or a feeling that your teeth are loose. If you have any of these concerns, it is best to schedule an appointment with your dentist right away.
Your dentist performs a consultation to find the cause to create a customized treatment plan, which may include:
Changing your oral hygiene habits.
Desensitizing products.
Using a mouthguard.
Periodontal therapy.
Gum surgery
Preventing Gum Recession
Just as brushing can prevent cavities, there are several things you can do to protect the health of your gums, such as:
Use a soft-bristled toothbrush.
Don't push too hard when brushing.
Be careful when flossing.
Visit your dentist twice a year.
Seek treatment for bruxism or grinding your teeth.
Treat gum disease.
Stop smoking
Get a Healthy Smile Today!
Gum recession can be treated with the right periodontal care. Do not wait until it is too late. If you notice your teeth are appearing longer than before, contact your dentist right away.
About Dr. Cindy Hsu
Dr. Cindy Hsu specializes in advanced oral health services, like periodontics, dental implants, and periodontal disease. Maintaining the highest standard or care, she has the solutions you need to keep your teeth and gums healthy. If you have gum recession, contact our office today to schedule your appointment to rehabilitate your smile.
Comments Off

on Understanding the Causes and Dangers of Receding Gums
No Comments
No comments yet.
RSS feed for comments on this post.
Sorry, the comment form is closed at this time.