August 30, 2018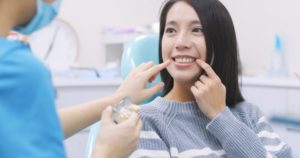 Missing teeth can be such a pain, literally. Good thing there is a better tooth replacement option than ever before! Dental implants in Southlake have quickly become one of the most popular replacement options to make your smile look and feel natural, healthy, and full again. Keep reading to learn why dental implants are amazing, and whether or not you may be the perfect candidate for prosthetics supported by dental implants.
What Are Dental Implants?
Before we discuss why dental implants might be right for you, you might be wondering what they are. Dental implants are small titanium screws that get placed in the jaw where they will act like artificial tooth roots. After the implant is in place, you and your dentist will decide the best restoration (false teeth) for you. This option will look and feel more natural than other replacements because the titanium screw will attach to your jawbone just like natural roots.
What Makes Me a Good Candidate for Implants?
Now that you know what a dental implant is, let's see if you are a good candidate for this treatment:
You must have healthy gums: Unhealthy gums can make infection around the implant more likely.
Jawbone health: There needs to be enough healthy jawbone to attach to the implants so they can bond and stabilize.
Commitment: You must be committed to taking care of your implanted restoration. Daily brushing and flossing as well as regular visits to the dentist are more important than ever.
What Makes Me a Bad Candidate for Implants?
Since we've covered what makes a good implant candidate, let's describe what a bad candidate can look like:
Young people: Usually young people below the age of 18 are not good candidates because their jaws haven't stopped growing. If a younger person wants implants, their dentist must make sure their jawbone is at full size. If implants are placed while the jaw is still growing, they won't be as effective, and it will cost you a some time and discomfort while your dentist readjusts the implants to make sure they are in the right position.
Pregnant women: Pregnant women should not get dental implants to remain safe from possible X-rays, anesthesia, and stress. X-rays and anesthesia needed for this procedure can damage the fetus. Dentists recommend waiting until the third trimester, or even better, waiting until the baby is born.
Heavy smokers: Smoking can reduce the likelihood of a successful implant because it hinders healing in the mouth.
Diseases and health problems: If you have chronic diseases or systematic problems like uncontrolled diabetes, hemophilia, or other on-going health issues, talk to your trusted dentist to see if you should avoid implant treatment.
Grinders and clenchers: If you tend to grind or clench your teeth, you may be putting too much pressure on the implant which decreases likelihood of a successful procedure.
If you are in the market for tooth replacement options, look no further! Dental implants are the most stable and natural feeling treatment you could choose for missing teeth. Now that you know if you're a good candidate, contact your trusted dentist to discuss your next steps.
Meet the Dentist
Dr. Cindy Hsu makes sure her office provides high standards of treatments for her patients. She is board certified in the field of periodontics where she was specifically trained in the surgical placement of dental implants. She is ready to get your implant treatment started at DFW Periodontics & Implant Dentistry. For any questions or comments, she can be contacted by phone at (817) 809-4388.
Comments Off

on Are You A Good Candidate for Dental Implants in Southlake?
No Comments
No comments yet.
RSS feed for comments on this post.
Sorry, the comment form is closed at this time.